Flood Water Damage Carpet Cleaning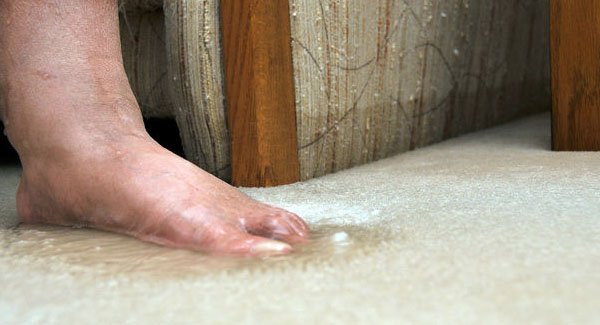 W
ater flooding in your residential or work premises may be a result of sudden overflow of water from your washing machine, dishwasher, plumbing breakdown, or weather changes like storm and heavy rains in your area. Dealing with excessive unwanted water on any scale is stressful and requires urgent professional response to ensure no further damage is done to the premises due to standing water.
Water flooding can occur from many different sources and may vary in scale having potential of risking health of people and permanently damage property if not treated in the rightful manner at the earliest. Our technicians are well experienced and highly reliable in dealing with all sort of water flooding conditions in and around Melbourne. Simply Call 0406960436 or 1300 Zero Spot before mould, bacteria and moisture may further damage and deteriorate the structure of your property.
Flood Water Damage Restoration and Carpet Cleaning Process
1. Remove Excessive Water.
Excessive water that has flooded your place is removed with high power professional wet vacuums to ensure maximum amount of water is removed before any further action is taken.
2. Dry Out.
High wattage air movers are fans are installed for a few hours depending on the requirements and windows and doors are left open to create better ventilation and move air to speed the process of drying of the carpets and effected area.
3. Remove Moisture.
Depending on the damage done and moisture in air, Dehumidifiers are installed in combination with air movers to circulate the air and condense air moisture, which makes the air feel cooler and limits mould and mildew growth.
4. Carpets Steam Cleaning.
In the final stage, Carpets effected by water overflow / flooding are steam cleaned with professional steam cleaning / hot water extractor machines with non-toxic chemicals in accordance with AS/NZS 3733-1995 standards of textile floor coverings.

Additional Precautions Recommended:
– After removing water, removing moisture and drying and steam cleaning carpets, the area may be required to be inspected by a registered electrician to ensure all electricals and cables are intact.
– Throw away the soaked and damaged items that can not be repaired.
– Remove any wet/soaked insulation in ceiling or walls
– Clean and sanitize all walls and hard surfaces with non-toxic chemicals
What To Do In Case of Flooding or Water Overflow ?
– Identify the reason of Water Flooding / Overflow and do the needful to eliminate the source
– Call 0406960436 or 1300 Zero Spot for immediate response from Zero Spot Cleaners' Water Overflow Flood Restoration and Carpet Cleaning team
– Check with your insurance about your cover provisions in such situation
– Remove Clean Water with Wet Vacuum, Mops or Towels and leave the windows open for better ventilation
– Dirty water from sewage brakdown / overflow causes further contamination and thus the effected area must be closed off until technicians arrive.
– Dry out the area with
– Control / Remove Moisture in the premises
– Remove Furniture from the rooms where possible to avoid damage
What Not To Do In Case of Flooding or Water Overflow ?
– Do not use a standard household vacuum to try to remove the standing water
– Do Not use any electrical items or electrical sockets in the flooded area / rooms
– Do Not use any bleach or strong detergents. They may damage and discolor the carpets permanently
– Do not lift / remove carpet from the rooms without professional help. This may damage carpet underlay