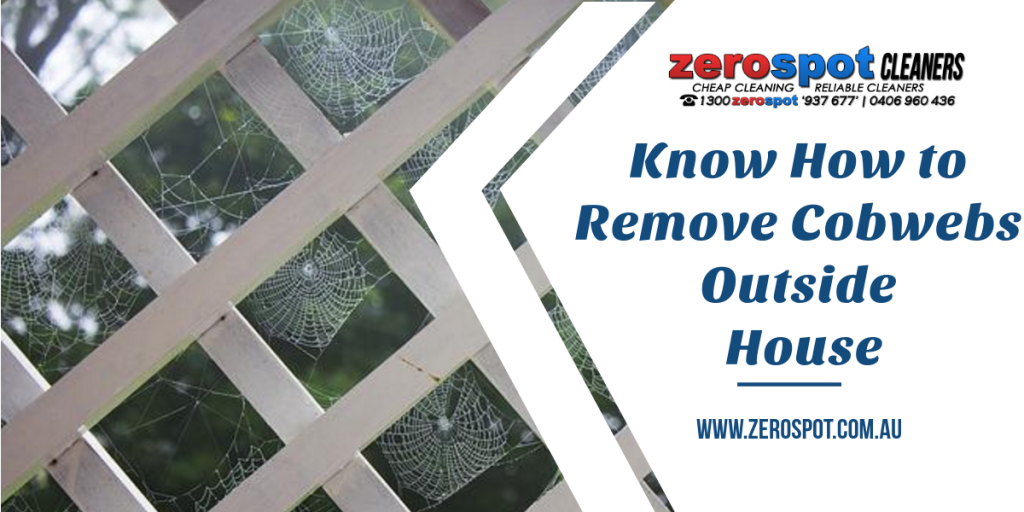 Cobwebs make your home old and dingy. They are found in corners and also around the area where the wall meets with a ceiling. One can find them around ceiling fans and over hard and solid objects.
Cobwebs are also found in tight spaces somewhat between the crack and within appliances or in staircases. Excessive lights make things worse that is because spiders are attracted towards lights. Nobody likes them, so it is important to have a good tool to removing cobwebs easily.
Cobweb and spider both originate from the same source, but there was some difference between them. A cobweb is the leftover miscellanies of a lengthier used spider network. When a spider dies or moves on to another fly-filled locale, the web remains and finally deteriorate as it collects dust.
The biggest question comes from others as to how do you get rid of spiders outside your house? – The answer is very simple to keep your house clean and simple. This would surely minimise the same from the locations.
There are various kinds of home remedies that can be well applied to removing any cobwebs:
Broom method: A most commonly recommended method for removing cobweb is to seep them away with a broom. You may get some success with this method. Most of us use our brooms for sweeping floors. Sweeping ceiling and walls with regular floor broom will replace dirt marks in their place. Broom is pretty long, and allow one to reach ceiling heights. Even one can reach the corners, behind the cupboards and places where such cobwebs can persist well. Broom is basically an instrument to solve all issues in terms of problems for all – only in terms of web removal.
Vacuum Method: A highly recommended method for such issues is to use your vacuum cleaner. This process works magically. It requires electricity and cord management. Moreover this is highly acceptable to the modern families – and moreover – the cobwebs get withered away with this kind of system. Do check the same method today.
Cloth method: This is also recommended that is wiping with a cloth. Duster or cloth is mostly used in this process. Using any sort of cloth to remove cobwebs, essentially pressing the dirt down against the ceiling or wall. Cobwebs coated with oily dirt and dust can well be removed smoothly without any disturbances. Check many manuals to clean up such kind of cobweb removal process today only.
Use bleach and water: The method is to mix bleaching powder and water together and spray on the affected area. Within a few minutes' cobwebs loses its ends and falls down. This is the perfect method of killing the spiders, its web, and its eggs too. Moreover, it is advisable to add hot water with the powder so that things can be done well and the clean outcome might come.
Vinegar and also coconut oil mixture: this mixture must be regularly sprayed on the webs and corners – it is a fact that vinegar acts as a spider repellent letting the spider return back to the own state.
The above methods are very simple and very useful for preventing cobwebs outside one's home. While using these methods is careful it can damage your walls too. There is a number of other products too are available in the market just to remove cobwebs specially designed for corners and behind cupboards too. One can well take help of such kind of products and use the same.
How to prevent spiders from coming back
It's a very tough question to answer how do I prevent cobwebs? Because it's not a simple task. You have to eliminate all the food sources of spiders. Bugs are attracted by the lights and this is the most loveable food which spiders like.
One can well select yellow décor and lights as inserts often try to avoid the shades and this pale light. Darker colour also tends to attract few insects than other. If one cleanses the portion of the house and walls daily the cobwebs get brushed up.
This is due to the regular wiping and cleaning. Paint roller and duct tape also can be used as cleaners. Spray harmful insecticides for cleaning off the cobwebs and also this spray removes all the insects from any arena of the house. Leaving the house clean and fresh as before.
One must note the fact if the house is not free from insects then wealth and prosperity too ever stays. Finally, it is well-recommended fact that preventing cobwebs outside is the most for all families who love to be happy and prosperous ever after.
Clean your walls, sofa sets, TV shutters and window panes regularly to get rid of such issues from the house. Bring brightness and happiness to your home.